Ongoing Financial Advice from a 

CERTIFIED FINANCIAL PLANNER™

 professional
No matter what life brings, the wealth advisors at Darrow are here to help. The Darrow Private Wealth Management Program offers a complete solution to individual investment management and financial advisory needs. Some of the most common planning questions we advise clients on are situational and event-driven.
We proactively reach out to clients every 6 months to help ensure nothing falls through the cracks. Further, all wealth management clients are encouraged to contact us any time they have a question or a change in their situation.
Your financial life will change over time. We're here to help you manage it.
This is not an exhaustive list of our services, please contact a wealth management advisor to discuss your personal situation. Common questions and support areas:
Home Buying and Real Estate
Mortgage and financing options including early payoff and using home equity
Vacation homes, rental or investment property, and downsizing
Insurance and asset protection
Investment Changes
Changes in your life that require modifications to your investment strategy
Consolidating old retirement plans
Life Events
Job transition
Getting married or divorced
Inheritance planning and investing
Executive Compensation and Benefits
Equity-based compensation and stock options
Review benefit package
Spousal benefits and other considerations for same-sex couples
Unexpected job loss or early retirement
Determining the optimal contribution level to deferred compensation plans or cash balance plans (for business owners and partners)
Estate Planning
Strategies to avoid probate
Asset titling
Trust selection and administration
How changes to laws (e.g. the Secure Act) may impact your financial situation and estate plan
Asset Protection
Insurance coverage analysis (life, disability, long-term care)
Titling of accounts and assets
Marriage and divorce considerations
Charity and Gifting
Charitable giving
Trusts as a charitable vehicle
Gifting strategies (e.g. cash or stocks)
Intergenerational Planning
Caring for elder parents or disabled spouse
Qualifying for Medicaid
Inheritance planning and wealth transfer strategies
College and Family Planning
Saving for college
Using a 529 plan
Private school affordability
Financial Framework
Major purchase goals and saving strategies for bonus income or stock options
Debt management
Cash flow management, planning, and projections
Ongoing Financial Advisory Support is a Critical Part of Building and Protecting Your Wealth
We don't know what we don't know. If you are only receiving guidance from a financial advisor when you reach out with a question, how can you be sure nothing will fall through the cracks?
Transparency
As a fee-only financial advisor, we do not sell securities, investment products, or receive commissions or compensation from 3rd parties.
Fiduciary Duty to Always Act in Your Best Interest
A fiduciary duty means we are legally bound to act at all times for the sole benefit and interest of our clients. This is the highest act of loyalty, trust and care under the law.
Independent
We are also completely independent, so you don't have to worry about fund family allegiances or other corporate actions that could distance us from our clients.
Private Wealth Management at Darrow Wealth Management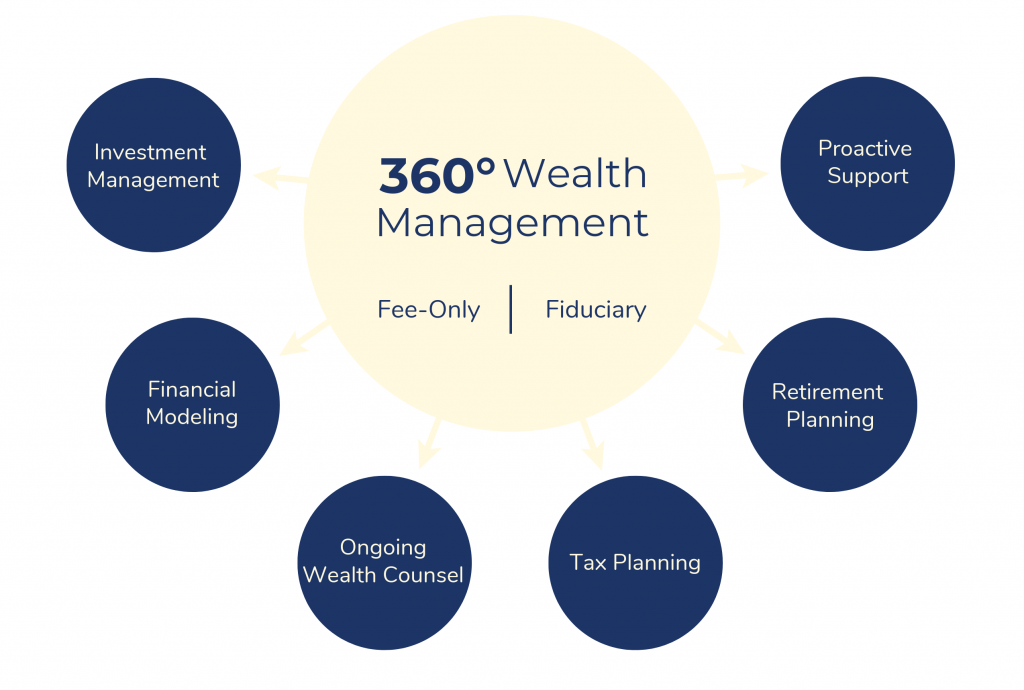 Darrow Wealth Management does not provide tax and/or legal advice. Certain circumstances may require us to coordinate with your qualified tax and/or legal advisor.