Retirement Planning and Wealth Management
Because you've been waiting your whole life for this. Whether you are a few decades away from retirement or just a few months, the Darrow team of financial advisors and CERTIFIED FINANCIAL PLANNER™ professionals can help provide the guidance you need to be retirement-ready.
Retirement planning is an integral part of the Private Wealth Management Program, which integrates financial planning with investment management and ongoing advisory counsel, to help ensure our clients have the freedom to enjoy their success without concern about where they stand financially, no matter what the future brings.
Retirement Planning Wealth Advisors
Ongoing asset management from an independent, fee-only registered investment advisor and fiduciary
Semi-annual meetings and ongoing financial planning support from a CERTIFIED FINANCIAL PLANNER™ professional
Creating an income stream during retirement
Developing assumptions for retirement: income expectations, retirement age, lifestyle, travel
Navigating payout options for a pension or other deferred compensation
Review of current savings and investment strategy
Ways to save for retirement after maxing out a 401(k) or 403(b) plan at work
Develop recommendations aligned with your goals
Roth IRA conversion analysis
Stock options and equity awards as part of your retirement planning and saving strategy
Leaving a legacy and donating to charity
Projected cash flows in retirement
Diversifying your retirement savings from a tax and investment perspective
Tax-efficient withdrawal strategies in retirement
Social Security strategies
Impact of required minimum distributions (RMDs) on your tax situation
Optimizing 401(k) and IRA distributions to reduce tax impact
Investment management in retirement: navigating the trade-offs between risk and return
Medical expenses in retirement and changing care needs (e.g. nursing home, assisted living, and downsizing)
Medicare and long-term care insurance considerations
Planning for retirement isn't just about finances. Our team of retirement wealth advisors will take a consultative approach to help walk you through the various other considerations that may arise before or during retirement.
Am I on track to retire? Common retirement planning questions
How much do I need to save to retire?
Where should I retire? When should I retire?
How will I fill my days?
What happens if there's a market downturn right before I planned to retire?
What does retirement look like?
Can I afford to retire with the lifestyle I want?
Should I buy long-term care insurance?
How will I pay for assisted living or a nursing home for me or my spouse?
Where can I get health insurance before Medicare?
What if I want to work during retirement?
Should I downsize?
Depending on the topic and level of detail required, a comprehensive financial plan may needed for the analysis.
Retirement Planning is Part of Comprehensive Private Wealth Management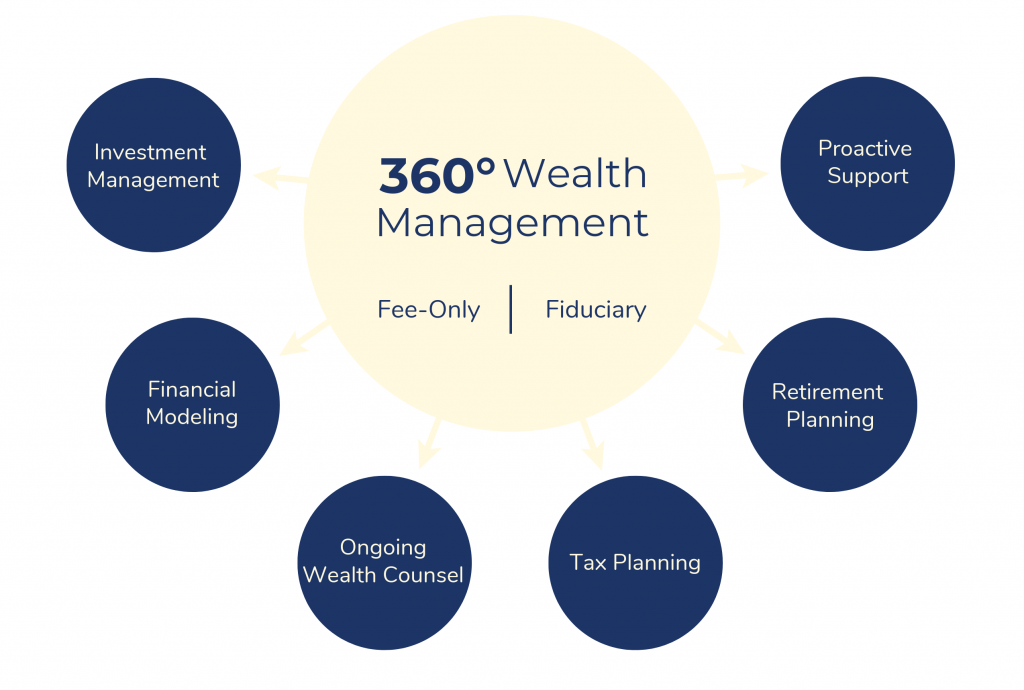 Private Wealth Management Services
Transparency
As a fee-only financial advisor, we do not sell securities, investment products, or receive commissions or compensation from 3rd parties.
Fiduciary Duty to Always Act in Your Best Interest
A fiduciary duty means we are legally bound to act at all times for the sole benefit and interest of our clients. This is the highest act of loyalty, trust and care under the law.
Independent
We are also completely independent, so you don't have to worry about fund family allegiances or other corporate actions that could distance us from our clients.