Wealth Management for Biotech Professionals and Life Sciences Executives
Understanding the fast-growing and evolving fields of biotech, pharma, and life sciences, which may involve frequent company shifts.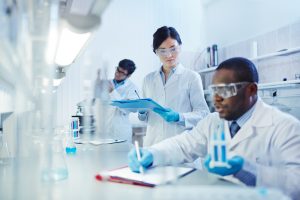 Even once you have reached the pinnacle of your career, new opportunities may constantly present themselves – including the possibility of starting your own company. Along the way it can be difficult to keep an eye on your overall strategy for building your wealth.
Darrow Wealth Management is experienced in working with busy professionals in the booming biotech industry in Greater Boston and Cambridge. We can coordinate your wealth management strategies and help you consolidate your accounts and old 401(k) plans you may have left at former companies.
As M&A activity continues to thrive, we can also help you understand your options if your employer is being acquired. We watch over your personal finances so you can focus on what you do best while knowing that the professional team at Darrow is working for you.
Investment management and financial planning for professionals in biotech, pharma, and life sciences
While every situation will be unique, there are a number of situations we frequently work to help clients in biotech and life sciences plan for or address:
Consolidate old 401(k) plans and other investments accounts at one institution with a unified investment strategy
Evaluate a benefit package and discuss pros and cons of participation in certain programs
Retirement planning and income projections during retirement
Helping clients maintain financial stability despite frequent job changes and M&A activity
How to invest extra cash
Managing stock options, deferred compensation, stock appreciation rights, and other forms of equity compensation
Navigating a severance package after being unexpectedly laid off
Simplifying and organizing your financial life with a cohesive financial and investment strategy
Managing retirement plans at work
Evaluating your insurance coverage such as life and disability
Working to help clients limit unnecessary exposure in the market by emphasizing diversification, discipline, and patience
Saving strategies to make the best use of cash flows and income
Financial modeling and projections
Tax-efficient investing and planning with tax consequences in mind
Ongoing investment management from a fiduciary and fee-only financial advisor
Contact a financial advisor today to learn more about Private Wealth Management for professionals in life sciences.
Wealth Management and Investment Advisory Services
Learn more about working with a CERTIFIED FINANCIAL PLANNER™ professional
Our Story
In 1987, we began helping individuals and families invest in their future.  Now a predominantly female-run second generation family business, we are proud to have the opportunity to help multiple generations of families in the community achieve their wealth and lifestyle goals. Learn More.
An Advisor, Not a Salesperson
As a fee-only financial advisor, we do not sell securities, investment products, or receive commissions or compensation from 3rd parties.
Always in Your Best Interest
As a fiduciary, we are legally bound to act at all times for the sole benefit and interest of our clients. This is the highest act of loyalty, trust and care under the law.