How The Stock Market Has Performed Before, During, And After Presidential Elections
There's a lot going on during any normal election year, but fittingly, this time seems different. Of course, when it comes to investing, unless you have a crystal ball, it's not worth trying to predict the future. Indulging political fears or expectations by making major changes to your investments can be particularly damaging. While trying to speculate the market reaction to a specific event like a Trump reelection or Biden victory may not be worthwhile, historical trends about stock market performance before, during, and after presidential elections can help set expectations for wary investors about what has happened in the past. History is a helpful guide, but as we all know, the future has no promises.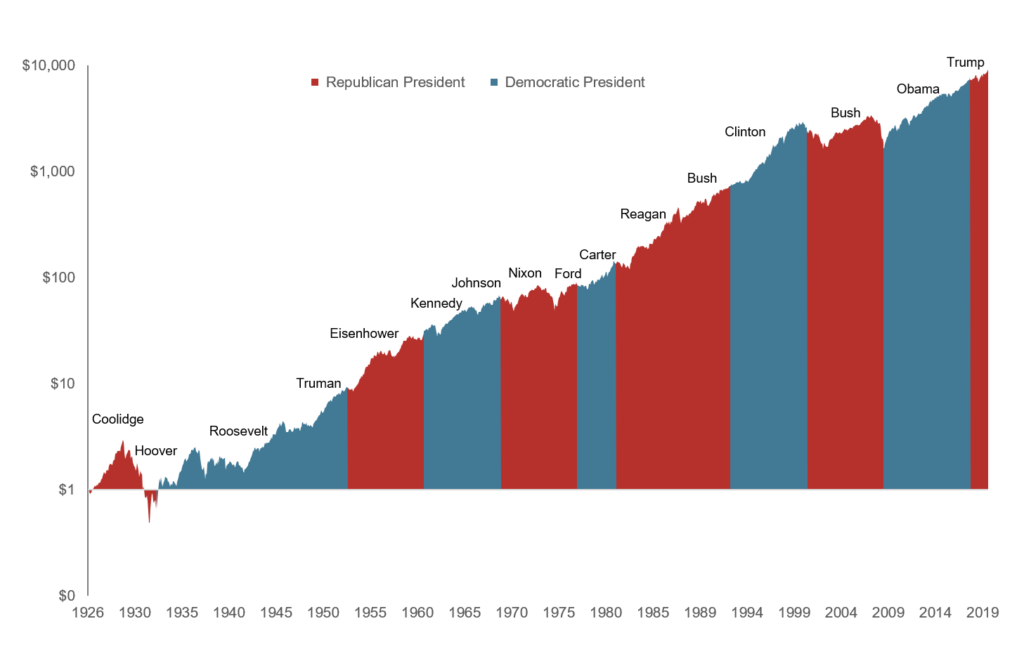 Buckle up: prepare for increased volatility
Historically, volatility in the stock market is elevated in the months leading up to an election. This is logical, as the markets hate uncertainty. For investors, it's important to step back, put personal feelings about politics aside, and objectively assess the situation and what it might mean for your personal finances.
Beware of bold predictions: recall the 2016 election
The 2016 election serves as a fitting example of how predictions can go awry and how quickly the market can incorporate new information and recover.
The night of the 2016 election, as more states began reporting and a Trump victory became increasingly likely, stock market futures sank rapidly. The S&P 500 fell more than 5% in premarket trading, triggering a circuit breaker to halt trading. By the time the market closed the day after the election, the index was up over 1%.
It's worth nothing that a quick Google search for 2016 Trump win and stock market returns numerous results predicting an instant recession, markets tanking, stocks sinking (all published before November 8th, 2016 of course). Between 2017 – 2019, the average annual price return for the index was over 14%.
History shows the stock market and the economy are key indicators of who wins a presidential election
Although the stock market is not the economy, historically, both have played major roles in the outcome of presidential elections. According to Dan Clifton of Strategas Research Partners, history shows avoiding a recession in the two years leading up to an election is a key indicator of reelection.
In the last 100 years, every president who averted a recession during this period was reelected. Only one, Calvin Coolidge, went on to win reelection when there was a recession in the two years leading up to the election.
His research also shows how stock market performance leading up to an election has also been a major indicator of the outcome. The performance of the S&P 500 in the three months before votes are cast has predicted 87% of elections since 1928 and 100% since 1984. When returns were positive, the incumbent party wins. If the index suffered losses in the three-month window, the incumbent loses.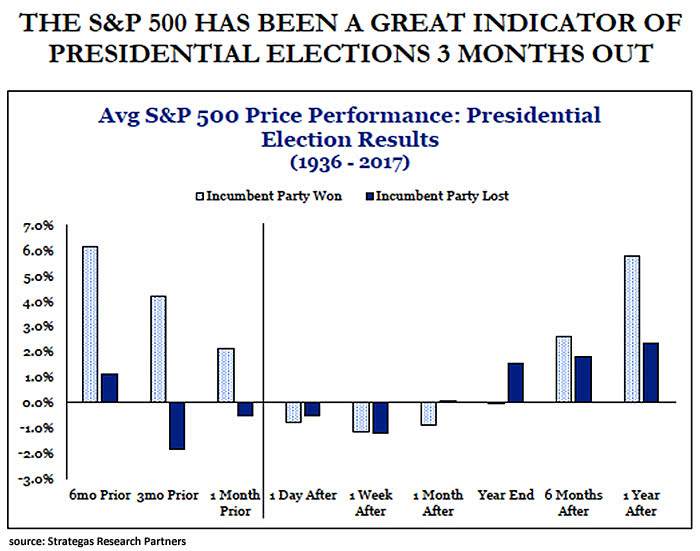 Stock market performance during an election year
It should be of no surprise that the markets performed better during a year when an incumbent president is elected compared to a new administration. As explained earlier, the markets hate uncertainty. A new president can create more unknowns: the potential for increased regulations, higher taxes, and other shifts the market perceives as anti-business can all influence sentiment.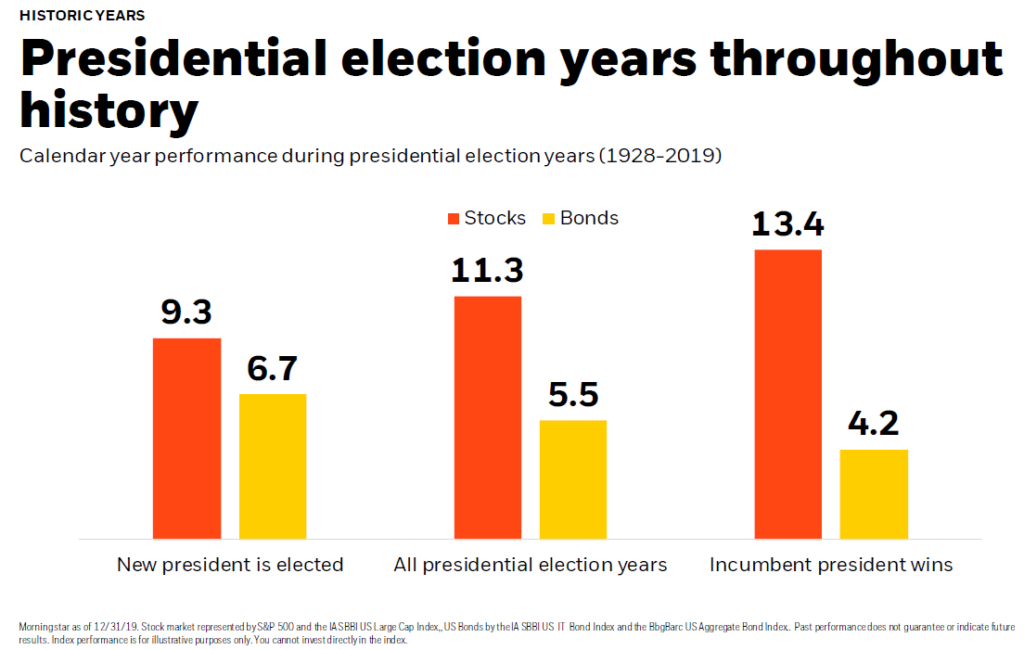 As of market close on August 17th 2020, the S&P 500 was up 4.68% year to date (total return) and Bloomberg Barclays US Aggregate Bond Index was positive 6.94% on the year.
Returns the year after the election
Historically, U.S. stocks and bonds tend to perform better during an election year compared to the year after. For international equities, the opposite has been the case; returns the year after a U.S. presidential election far exceeded those during an election year.
Global stocks are mixed under different party leadership
This Forbes article breaks down U.S. stock market performance by presidential term, but most investors aren't just invested in the S&P 500.
According to Dimensional Fund Advisors, since 1973, average annualized returns for developed international stocks[1] were always positive over a term for Democratic presidents. But since 1989, emerging market equities[2] were only positive 50% of the time under a Democratic administration, versus 100% of the time with Republican leadership.
Like the U.S. stock market, returns of global stocks depend on multiple factors, many of which are outside the control of any administration. Natural disasters, terrorism, political scandal or turmoil within a country, geopolitical tensions, trade policy, international relations, and the relative strength of the dollar are just a few factors.
Returns when Democrats, Republicans, or a mix of both have control of the House and Senate
Returns in the financial markets come from a multitude of factors. The party who wins a presidential election is just one of them. Here are some interesting statistics about partisan control of the White House and Congress from Dan Clifton of Strategas Research Partners:
Since 1933, the highest returning partisan control combination for the S&P 500 has been a Democratic Senate, Republican House, and Democratic President where returns averaged 13.6% per year. In 2020, this would require a reversal for all three.
Our current mix of Republican Senate, Democratic House, and Republican President averages a 10.8% return. This combination is likely if President Trump wins reelection.
Under a Biden victory, the likely scenario is a Republican Senate, Democratic House and (of course) a Democratic President. Interestingly, this combination has not occurred since Grover Cleveland in the election of 1886!
Managing your money during an election year
Managing your finances can be challenging if you're not working with a financial advisor, especially amidst a pandemic, recession, and presidential election. Here are a few key points to help keep you, and your money, on track:
The headlines are supposed to grab your attention—that's the point. For the news media, presidential elections are like a Superbowl that's only played every four years. The advertising money is flowing in and it's a race to produce content and capture eyeballs. Take what you read with a grain of salt.
Focus on what you can control. Stressing about what might happen under the different permutations and combinations of the election won't help anything. Instead, consider focusing your energy on aspects of your financial situation that you can control, like how diversified you are against volatility in the markets.
Zoom out a bit. Consider the first chart in this article. The stock market has gone up—and down—under all presidents. But over time, the trajectory has been positive. Getting too hung up on what-ifs over the next four years means losing sight of the big picture.
This article was written by Darrow Wealth Management's Managing Director Kristin McKenna, CFP® and originally appeared on Forbes.
Past performance is not a guarantee of future results. Indices are not available for direct investment; therefore, their performance does not reflect the expenses associated with the management of an actual portfolio. This  article is for generalized information only and should not be misconstrued as the rendering of personalized investment advice.
[1] MSCI EAFE (net dividends)
[2] MSCI Emerging Markets Index (gross dividends)