The Federal Reserve is planning to raise interest rates (the Federal Funds rate) earlier than expected to cool down the hot economy. The stock market is reacting swiftly: the Nasdaq 100 is in correction territory. What can investors expect from the stock market when interest rates rise?
Interest rates are going up
Super-easy pandemic monetary policy gave strong support to asset prices. The prices of bonds in the secondary markets increased as new bonds could be issued at lower rates (and thus lower current yields – see example on how interest rates affect bonds).
Historically low bond yields and massive fiscal stimulus drove investors into riskier assets including stocks, which was a major contributor of the outperformance of the S&P 500 in 2020 and 2021.
When there's an alternative to equities for yield again, investors recalculate the equity risk premium. High-flying equity valuations are getting a haircut. For bonds, expectations of increasing interest rates mean investors in the primary market earn higher coupons on new issues. This puts pressure on prices of outstanding bonds in the secondary market which are paying less. This is one reason why bond yields are rising. This article has more on interest rates and the economic outlook.
How do stocks perform when interest rates rise?
Historically, when rates increase it's actually good for stocks overall. Again, the implications are that rates are going up to slow (not stop) the rate of economic growth. A strong economy can be very good for companies.
An analysis from J.P. Morgan showed that from February 2009 on, the S&P 500 and 10-year treasury moved together until the 10Y rises until 3.5% when the two diverged. In another words, rising rates can be good for the overall stock market, to a point. On January 21st, the 10-year treasury was 1.75%.
This graphic from BlackRock summarizes historical stock and bond returns six and 12 months after the first rate hike.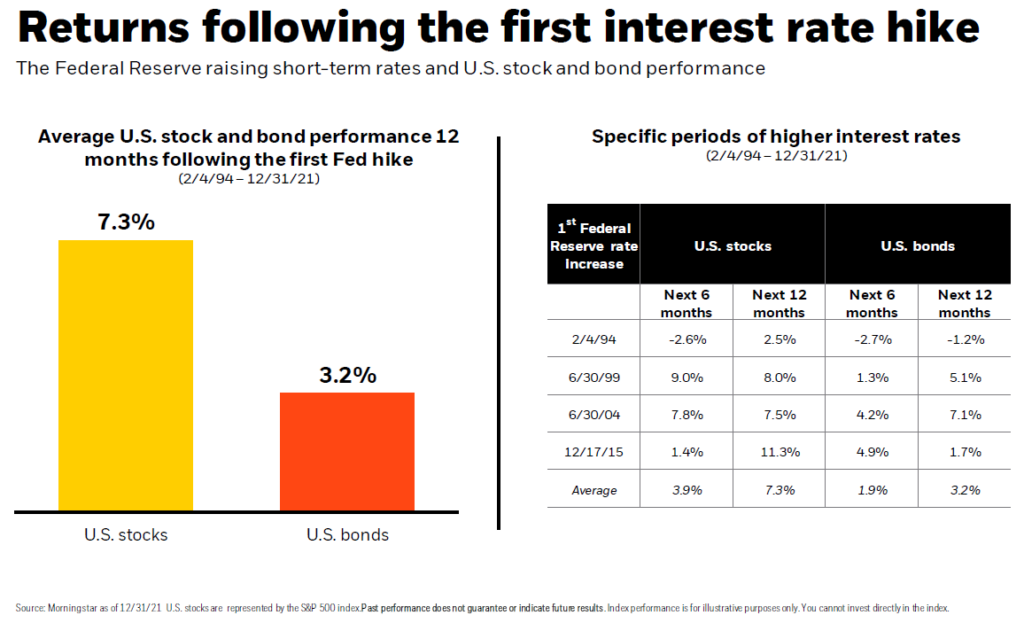 It's important to note that in any economic and market environment, there are multiple complex narratives at play. Now is no different. Further, the broad-based markets sometimes smooth out underlying volatility in certain sectors (hence diversification), while other trends, like the run up in post-Covid valuations, are more pervasive. Here are a couple trends in the stock market to watch as interest rates rise.
Valuations
By most metrics, valuations have been stretched for some time due to the reasons discussed earlier. Estimates have the S&P 500's forward price-to-earnings ratio at 20x, one standard deviation higher than the long-term average of 16.8x. Although the forward P/E ratio has been dropping for several months, current valuations still impute nearly flat average annual returns over the next five years based on an analysis from J.P. Morgan.
Corrections are a healthy market function to keep valuations in check and prevent asset bubbles. This is part of what's happening now. We're overdue. In 2021, the S&P 500's biggest drawdown was 5.1%. Since 1980, the average intra-year price drawdown was 14%. Instead, the index hit 70 new all-time highs in 2021.
All that said, it doesn't mean investors should have sat on the sidelines in 2021. While investing at all-time highs may not feel good, historically, it tends to produce above-average returns. Last year was no exception: the S&P 500 returned almost 29% with dividends reinvested. You can't time the market, but you can choose how you invest in it.
Growth vs value
The market as a whole moves very differently than a single stock or sector might. The rotation out of growth stocks this year makes sense in the backdrop of rising rates. Growth stocks (dominated by tech) are characterized as companies that trade at higher price-to-earnings multiples than other stocks, most notably value. Investors may be willing to accept higher valuations today on future expectations of continued above-average growth. Growth stocks typically don't pay dividends and sometimes don't even turn a profit.
In low interest rate environments, the 'cost' of waiting for future growth to materialize is small. But when rates rise, future growth is discounted back to present value and worth less, so investors may not pay as much.
In contrast, value stocks are characterized by established, dividend-paying companies like financials, consumer discretionary, and energy. Value stocks have cheaper P/E ratios relative to growth stocks and tend to be much more correlated to the U.S. economy/GDP and interest rates (10-year treasury).
Year-to-date, growth is down -12.3% while value is only down -3.6%.¹ Over the course of history, value has outperformed growth, but in the last 10 years, growth has done better on an annualized basis. Whether or not this latest rotation lasts, it illustrates the benefits of having exposure to both in your portfolio.
Diversification, my old friend
The purpose of diversification is because like broad-based market moves, there's no way to know when certain sectors, styles, or factors are going to outperform or underperform, for how long, and to what extent. By holding a diverse mix of asset classes, factors, styles, geographies, etc., there's a good chance that some part of your portfolio will be underperforming at any point in time. And that's ok.
The goal of diversification is to help improve the probability that during a downturn, your portfolio won't decline in value as much as a concentrated allocation would. The tradeoff is that a diversified asset mix likely won't outperform a concentrated bet in one area of the market when it happens to be outperforming.
It's not a magic bullet, though. Correlations between asset classes change and globalization has further intertwined the global financial markets. But there are still ways you can position your portfolio for long-term success.
For example, consider the benefits of adding bonds to your portfolio for stability and income (total return). Since 1981, U.S. aggregate bonds have only had four years of negative total returns.
Also consider ex-U.S. equities. Internationally, valuations aren't nearly as high as they are domestically, so yields are higher also. Over the last 20 years, international stocks (MSCI EAFE) outperformed U.S. equities on an annual basis (S&P 500) 45% of the time, though on a cumulative basis, the U.S. has performed significantly better over this period. But there have been other rotations in the past that favored ex-U.S. assets.
If you're a long-term investor with a diversified portfolio, selling to go to cash will almost certainly be a mistake. That said, don't wait for market volatility to rebalance your portfolio for you. While we expect the market to continue to go up over time, that doesn't mean every stock within it will.
This article was written by Darrow advisor Kristin McKenna, CFP® and originally appeared on Forbes.
Disclosures
Examples in this article are generic, hypothetical and for illustration purposes only. Both past performance and yields are not reliable indicators of current and future results. This is a general communication for informational and educational purposes only; not personal advice or a recommendation for any specific investment product, strategy, or financial decision. This material does not contain sufficient information to support an investment decision and it should not be relied upon by you in evaluating the merits of investing in any securities or products. If you have questions about your personal financial situation, consider speaking with a financial advisor.
¹ As of 1/21/22. Source: YCharts. Russell 1000 Growth and Russell 1000 Value indices, total return. All indexes are unmanaged and an individual cannot invest directly in an index. Index returns do not include fees or expenses.